Samsung certainly rules the world when it comes to producing high-end technology. In the past, we say "only time could tell how Samsung will fare with its vacuums". Today, we revisit that after having witnessed its list of vacuums hitting numbers. From the early 360W canister down to today's latest Samsung Jet 75, so much has happened. Let's see what Jet 75 has got!
As the experts are to put it: the Samsung canon of vacuums spell "impressive" by the handle. But how much exactly has Samsung lived up to its name? Well, we have the Samsung Jet 75 Stick to look into.
By the looks of it, we are once again facing a typically light, slick, and comfortable vacuum design. Yet, there is something in this latest model that shatters the age-old expectation of a Samsung vacuum, something we are yet to put our fingers into.
Fortunately, after running the product ourselves, we spotted it.
Do you want to know what sets this model apart from the rest of the Samsung vacuum models?

Maximum Turbo Action!
It's not just any turbo action, but a maximum turbo action. In fact, manufacturers themselves failed to look into this edge. Otherwise, they would have highlighted the word "maximum" in their ads.

Is that change for the good, or bad? Stick around to find out! You'll certainly discover more.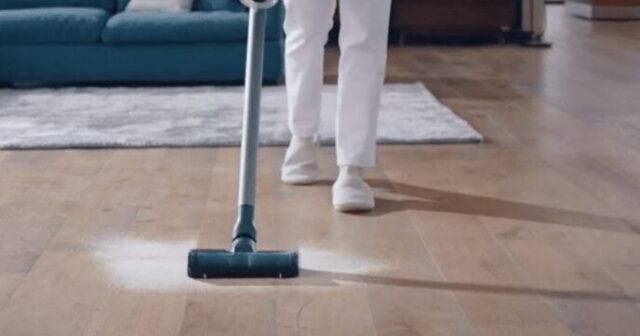 Why Should I Pick the Samsung Jet 75 Stick Vacuum Cleaner?
If you're the type of vacuum user who prefers personalized control on battery and vacuuming performance, then you should pick the Samsung Jet 75 Stick!
Unlike other vacuum products with built-in batteries, this unit enables you to remove, replace, and control its battery life. As a result, this configuration allows the vacuum to run for a full 60 minutes straight!
Best of all: it does maximum turbo action. We experienced it ourselves!
But there's more…
Here are other reasons why you should pick this latest Samsung vacuum model:
It keeps dust and debris from scattering around when vacuuming.
It ensures an allergen-free cleaning environment.
It enhances air quality.
It cleans fast and easy.
It can sustain one hour of cleaning without having to stop and wait for a full recharge.
It can clean all types of surfaces.
It has the best accessories and extensions.
It is super-light that you can hold it with only one hand.
It doesn't require much maintenance.
It provides efficient and convenient cleaning.
If you purchase this Samsung vacuum today, you're sure to experience these advantages. But these aren't the only reasons the Samsung Jet 75 Stick stands out!
Wait until you read our review.
A slick cleaning wonder, the Samsung Cordless Vacuum Cleaner's convenience departs a bit from the usual Samsung feel, but it's great in its own right.
When we ran the vacuum, we're quite disappointed at first. Why? Because it took time for its suction to power-up. But then, what happened next surprised us to our wits. It opted to warm up at first, and then after a few 8-10 minutes, it started sucking in like crazy.
It remained in that state for the whole duration.
We were worried: what if this happens every time we turn it on. Fortunately, after using it the second time around, it did not show the same warm-up tendency. So, it does deliver to its promise!
The second biggest feature we like about the unit, which deserves a bigger recognition, is its maximum turbo action. We think it is impressive because it suctions a high amount of dust and debris in the shortest time possible. In addition, it does not falter even right when you change the battery.
The Samsung Jet 75 Stick is truly a royalty when it comes to spontaneity, lightness, and ease. This, Samsung, at this point, proves again that it is impressive just by the design and handle.
Of course, this featured model won't be known if not for its equally impressive features (we'll bullet them in below).
We saw slight issues with the product too. These include:
While it's got a lot of accessories and extensions, it fails to hold all these in.
Solution: Allocate an extra storage space for its extensions.
The dust bin is quite challenging to empty.
Solution: Make sure to remove the entire dustbin from the vacuum when emptying it.
It's transparent casing is easily scratched.
Solution: Be careful when handling or storing the vacuum.
Pros
Maximum Turbo Action
1 Hour Easy Cleaning
Light & Easy Handle
Self-Cleaning Feature; Clog-Reducing Tech
Replaceable & Removable Battery for Personalized Control
Intense Filtration Technology; Multi-Cyclonic Air Filtration
High Suction Power
High Capacity Dust Bin
Spontaneous Cleaning Performance
Transparent Casing for Instant Checking
Complete with Amazing Accessories & Attachments
Cons
No holding space for its accessories
Dust bin is difficult to empty
Transparent casing is easily scratched
Lacks the usual cyclonic command of most Samsung vacuum
Verdict: As promised, we will answer the question we posted beforehand: is its slight differentiation from the usual Samsung cyclonic standard for the better?
Well, it depends on your position.
If you're one who's fixed on the usual Samsung cyclonic feel, then you might not like its change. However, if you're one who takes a chance on advancement, you'll be more than impressed by this latest Samsung wonder, lest its maximum turbo action.
It should sweep you off your feet and suck you towards it (pun intended)!
Got more questions about the product? Check out the FAQs below…
FAQs
Can I leave the Samsung Jet 75 Stick vacuum standing on its own when not in use?
No. It's not designed as an upright vacuum. You can attach it into a wall holder though.
Does the Jet 75 charge fast?
It takes 1 hour to charge its battery to full. However, since you can have it replaced with a spare battery, you don't have to wait for it to complete re-charging.
Hear ye! Our conclusion is at hand.
You may also like to read Bissell Crosswave Solution Alternative
Conclusion
Samsung continues to surprise us with its latest model: the Samsung Jet 75 Stick! By the look and feel, this unit undertakes a bold move by slightly departing from the usual Samsung cyclonic stabilizing feel, only to emerge with its own multi-cyclonic version.
All hands to that!
If you're looking for the usual lightness, comfort, and ease embedded in most Samsung vacuum models, you'd be happy to find them here.

Do we recommend it?
Yes, of course! We more than recommend it. We adore it to the point that we feel bad that it's not given the full recognition it deserves for its maximum turbo action.
What do you think of this latest Samsung cordless vacuum? Have you had an experience with this vacuum or any Samsung vacuum you'd like to share?
Write down your thoughts in the comments below.