Your living room, bedroom, and office are more comfy when clean, sleek, and spacious. And TV lift is just one of the right tools to make that happen. You can either hang it from your ceiling, build it into a wardrobe or hide it beneath a panel in front of your bed.
They're more than just a conversation starter or fancy thing to show off to guests – TV lifts also offer a wide range of practical benefits! Aside from protecting your TV from falls and damage, TV lifts also help prevent your TV from hidden unwanted access. Keep reading to learn why you need to hide your entertainment systems as furniture using TV lifts.
How to Hide Your TV Using TV Lifts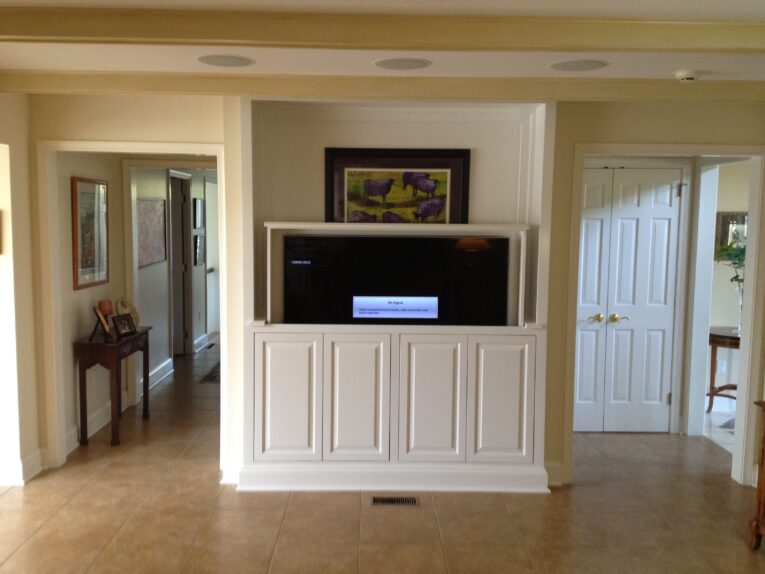 They aren't things from sci-fi movies or high-tech devices that are extremely complex. Instead, the process is simple yet fascinating. The best part is that you can have visitors over and they won't know your TVs there!
A TV lift works using signals sent from the remote control to the sensor within it. Depending on your commands, those signals tell the sensor to move the TV lift up or down or from side to side. In essence, it allows you to send commands through signals from the remote to lift your TV back into its position or bring it up or down as you wish.
The mechanism on which the TV sits, will move by the signal received. The mechanism is powered by electricity to move your television set out of and into partition walls, ceilings, or furniture like retractable TV cabinets.
However, to hide your TV using a TV lift, you'll need to install it and a cabinet. You can either do this yourself or hire a professional. Typically, it comes with a remote control which you can use to send commands in signals to control the movement of the lift.
Once you have this installed, you are good to go and your television remains out of sight.
Why Hidden TV Lifts Are A Practical Solution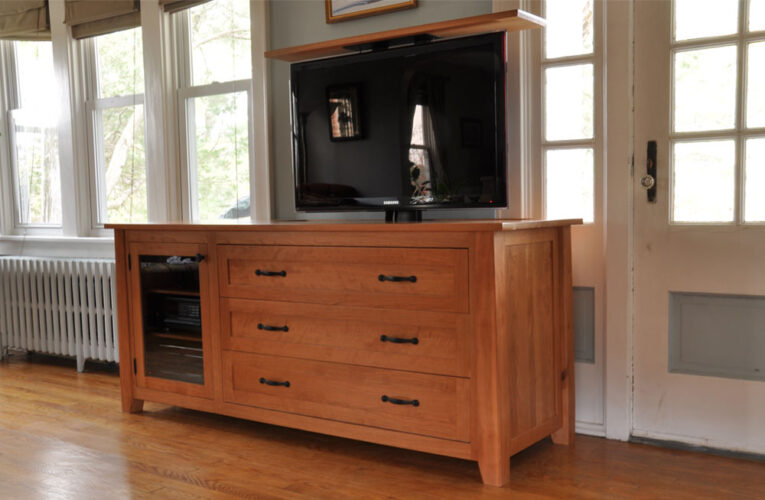 Your Flat screen TV is surely one of the most valuable items in your living room. As such, you wouldn't do anything bad to it. A hidden one is a practical solution to prevent your TV from getting stolen, broken, or damaged. Besides, here are other benefits of hidden TV lifts.
Organizes Your Home: It is a perfect solution to the problem of your view being obstructed by your TV when not in use. A flat panel TV lift, for example, can be used in pieces of existing furniture within your home, which saves you from having to change the aesthetics of your home.
For Convince: It can be installed behind a cabinet. So when you want to watch your TV, you only need to push a button, and it'll move into the viewing position. With this, you get safety and convenience.
Prevents Accidental TV Damage: If you're a parent, you won't have to worry about your TV being damaged by your kids when they're playing. Also, you won't have to worry about your TV accidentally falling on your kids when they're running around.
Makes Your Home Looks Neat: All wires and cables can be hidden with TV lift cabinets, so there's no chance of pulling your TV down. Plus, you wouldn't have to worry about the area around your TV looking messy and unorganized since everything will be hidden.
Get Your TV In Every Room: A TV lift is also great for small areas such as the kitchen. You can watch your favorite shows or latest recipes even in the kitchen. When you need the counter space, simply press a button, and your television will disappear into your counter.
Should You Make A TV Lift Or Buy One?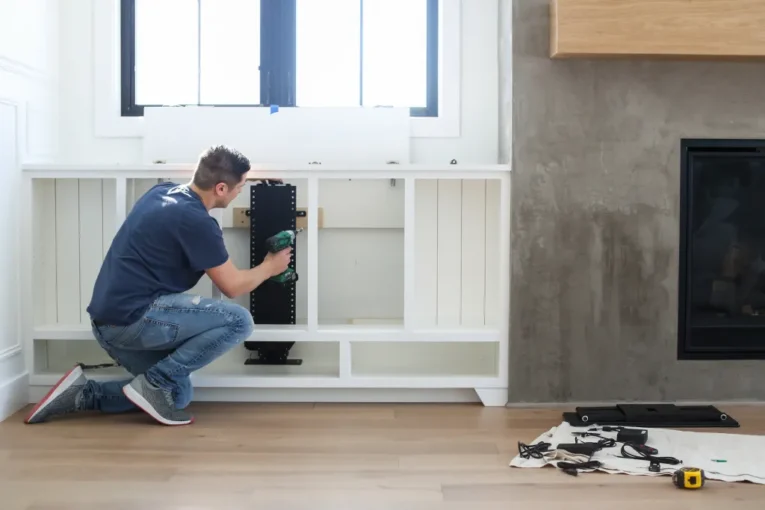 Whether you should make or buy one is entirely up to you. Why? Because it depends on your budget, your time, and your needs. Weighing all these factors will help you decide whether to buy or make one.
Putting your budget into consideration, the cost of buying a TV lift is generally more expensive than making one. But if you can afford it, why not save yourself the stress of building one? On the other hand, if buying one will have a daunting effect on your finances, you can save some cash by making one.
But then, you must also consider the time to make a TV lift. If you wouldn't have enough time to focus on making one, then I suggest you hire a professional. However, if you do want to build one, ensure you have all the information required as constructing a standard one takes time and patience. When done right, it promises to be a fulfilling experience as well as getting you a system you can use for years.
Furthermore, another major determiner is the type of TV lift you need – this focuses on the specification. If you can't find the exact size, length, or features (which is very rare) of the lift you need, you can consider building yours to fulfill this. For example, if you're looking for an outdoor TV lift that can withstand harsh weather, you can make one reliable enough to stand this need.
Conclusion
Hiding your television using these TV lifts is a practical way to achieve an ultramodern spacious, minimalistic interior. Besides, they can help prevent television from falling, getting damaged, or stolen. Otherwise, you can simply use it to hide your TV when not in use so that your room or office may look neat and spacious.
While you can install it yourself, hiring a professional is best if you don't have the time to. Remember that you can install TV lifts in every area of your home, including your kitchen, bedroom, and even outdoors, to enjoy your TV watching experience.