Hardwood floors have a beautiful allure. They would have to be kept in their stellar condition through constant care. One of those things includes covering up any occurring cracks or pores through a wood filler or putty.
Best Picks
Good Choice
Don't Miss
Also Consider
Elmer's E855 Carpenter's Wood Filler, 3.25-Ounce Tube, White
DAP Plastic Wood All Purpose Latex Wood Filler, White, 6 Oz (7079800585)
FamoWood 40022126 Latex Wood Filler - Pint, Natural 24 Oz.
Minwax 42853000 Stainable Wood Filler, 16 oz, Natural, 16 Ounce
Best Picks
Elmer's E855 Carpenter's Wood Filler, 3.25-Ounce Tube, White
Good Choice
DAP Plastic Wood All Purpose Latex Wood Filler, White, 6 Oz (7079800585)
Don't Miss
FamoWood 40022126 Latex Wood Filler - Pint, Natural 24 Oz.
Also Consider
Minwax 42853000 Stainable Wood Filler, 16 oz, Natural, 16 Ounce
You will have to pick only the best wood filler for your hardwood floors. There are many factors you would have to consider before buying a good wood filler.
 Hardwood Floors Filler – Top Picks & Reviews
1. Elmer's E855 Carpenter's Wood Filler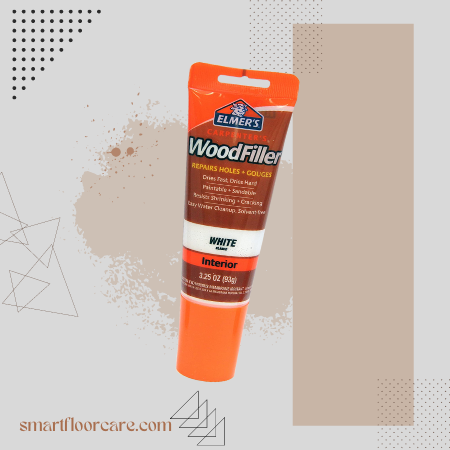 This is perhaps the best wood filler for hardwood floors in the market. It is a durable and efficient option for any buyer, which is why it finds its way to the top of our list. Strong adhesion makes it suitable for indoor use since these floors are constantly being cleaned and used, exposed to abrasion and friction.
Hardwood floors demand a different level of compatibility when it comes to wood filling. This product will need at least 12 hours to dry, but once that is done, the user will not have to worry about their floors for a long time. The dried wood fillers allow for water contact and would not budge from their place even if the floors are being washed with water.
This wood filler is ideal for sanding and is also stainable, so no need to worry about matching the color of your hardwood floors. This product will not burn a hole in your pocket and is easy to maintain.
2. DAP 00585 Latex 6oz, White All-Purpose Plastic Wood Filler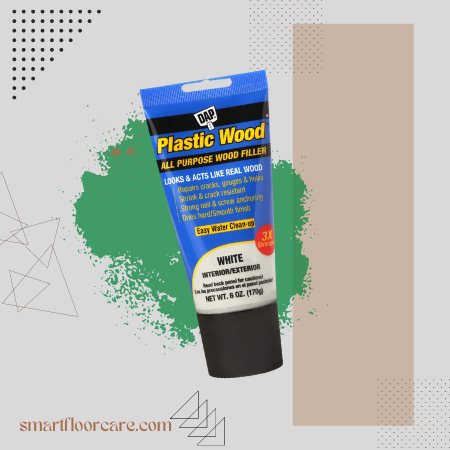 This is another affordable addition to this list of the best wood fillers for hardwood floors. This wood filler claims to provide three times the durability after hardening. An option with strong adhesion and solid performance, this plastic wood filler features actual wood fibers for a more realistic appearance.
If you are looking to cover up any cracks and pores in white pine wood, this is undoubtedly the best wood filler for you in the market. Apart from this, it also blends well with other types of wood as it can be painted and is stainable. It can be sanded down once dried and gives a seamless appearance and texture to your hardwood floors.
Another critical aspect of this wood filling is that if you have to nail or drill bits into the flooring with this filling in it, it would not resist it and hold the nails in place. It will not break apart and get cracked under pressure from hammering or drilling. Apart from all the qualities mentioned so far, this wood filler does not shrink and helps your hardwood floors retain their beautiful furnishing.
3. FamoWood Latex Wood Filler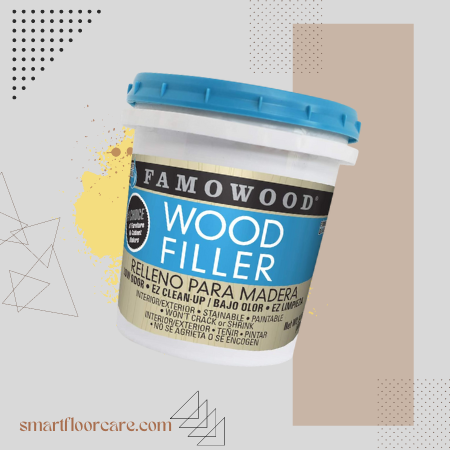 This is a latex wood filler and hence is an excellent option for outdoor use. Many customers have given rave reviews to this wood filler because of its good performance. This is an eco-friendly option, and its appearance looks like real wood.
Like most good wood fillers, this filling can be sanded upon drying and can also be stained to match the color of the flooring. One of the best parts about choosing this wood filler is that instead of waiting for hours for it to dry, you will only have to wait for 15 minutes.
If you are looking for a multipurpose wood filler, this is an ideal option as it would fill up any pores and cracks in the hardwood floors both inside and outside your home. This is a product that will not shrink, will not give off toxic fumes, and will stay in place even after years pass. Weather conditions and daily cleaning will not cause any deterioration on the filling once dried.
4. Timbermate Hardwood Wood Filler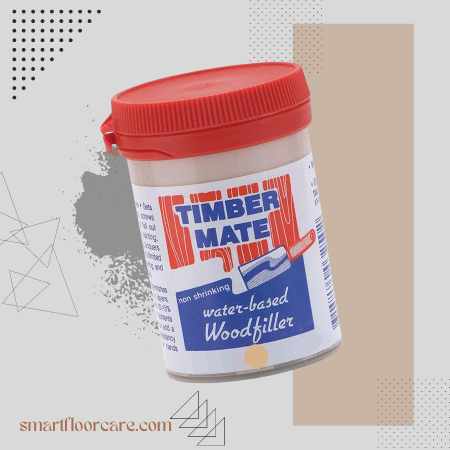 This water-based wood filler is a good option you can use for indoor floors. The wood filling dries quickly after application and allows for staining, which makes it ideal for application to hardwood floors. Like all the hardwood floor fillers mentioned in this article, this one also resists shrinkage and cracking once dried.
The adhesion of this filter is good and hence makes it a durable and low-maintenance option. Another distinguishing aspect is that it can be taken off the floor until it is dried in case something goes awry. So if you are applying it to your floors and then realize you need to start over, a cloth will do the trick.
5. Minwax Stainable Wood Filler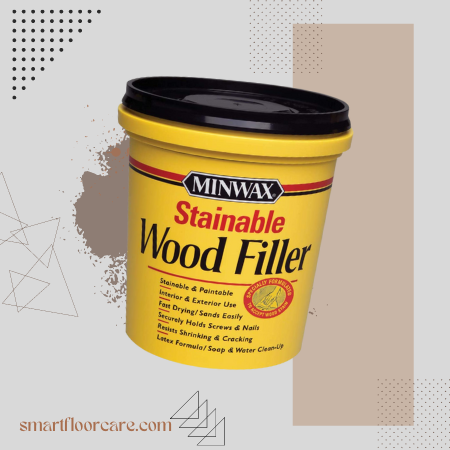 This is another wood filler with good ratings and reviews from almost all customers. This wood filler is perfect for filling any and all pores, holes, and cracks without any problem. This filler provides maximum protection once it dries and efficiently covers all the irregularities of the hardwood floors. This product deals well with any damage both indoors and outdoors are prone to.
Good for multipurpose use both inside and outside the house, if you want one answer to all your problems, this is the hardwood filler you should go for. What's more? It is affordable as much as it is versatile. This is an ideal wood filler for wood-like texture, durability, and floor protection. A low-maintenance option, this water-based wood filler would be the only wood filler you would have to buy for multiple uses.
6. Elmer's E892 Stainable Wood Filler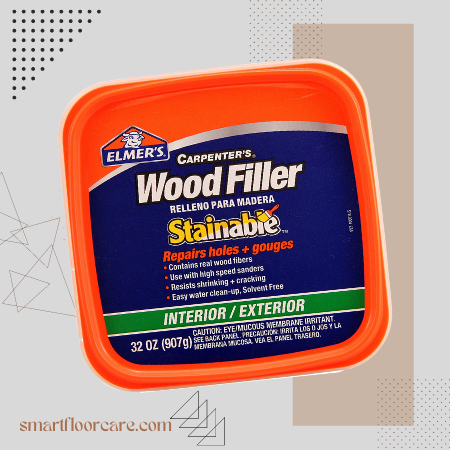 Like the first product mentioned in this list, this wood filler also comes from Elmer. Like most good quality wood fillers, the texture of this filler is integrated with authentic wood fibers that will not only hold well upon sanding but also give a good texture and appearance upon drying, merging with the hardwood floors.
This wood filler can be easily cleaned without having to worry about it getting damaged. The dried filling is low-maintenance. Once dried, this wood filler takes on an appearance like that of wood and can easily hold down nails that are drilled or hammered into it. It will not crack to shrink and will stain to appear like wood, keeping your floors as beautiful as ever.
Ideal for both hardwood furniture and floors, this wood filler is a pocket-friendly option. This filler also acts as a primer, providing a fine finish to your floors and furniture. Filling up all and any cracks and holes, this is a wood filler you can rely on.
What to Consider Before Buying Wood Fillers: A Buyer's Guide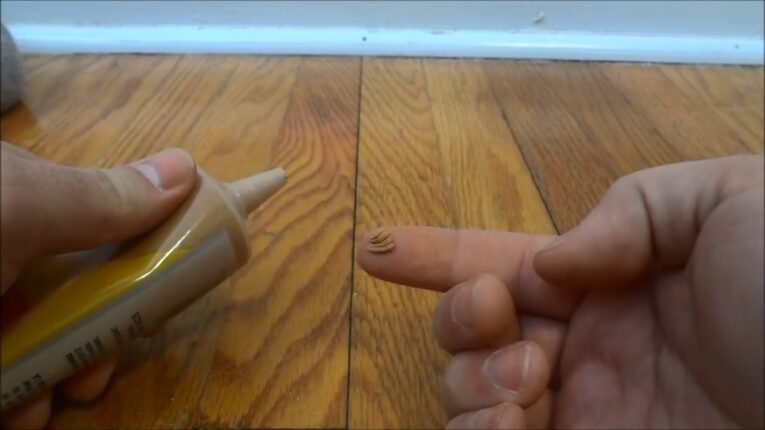 As a consumer, you need to get your money's worth with each purchase. You would have to keep some related factors in mind while buying a wood filler for your hardwood floors. These are listed below:
Consider How You Will Use the Wood Filler
Before you even go to the buyer's website. You would have to decide what exactly you need to do with the product you are going to buy. There might be a single purpose you want to be fulfilled or a list of them. Whatever the case is, the purpose of the wood filler needs to be clear in your mind so that you can look for the same services in the product when you look at the specifications.
You will have to consider whether the wood filler would be used indoors or outdoors, the durability of the product and whether it will go well with your expectations from the product. Whenever possible, look for a low-maintenance and damage-resistant wood filler.
Choose water-based fillers for indoor use and latex-based fillers for outdoors. It is also advisable to buy a product which would be used for more than one purpose around the house.
However, wood fillers have specific purposes depending on the type of product. Some wood fillers can be multipurpose, but more often than not, they would be suitable for either grain-like pores or cracks. If you have just one problem, then buying a specific type of wood filler is a good decision.
But if you have different types of irregularities in your hardwood floors, it is better to buy a wood filler that can be used for both.
Is the Wood Filler Stainable?
Ask this question frequently so that you do not miss out on the answer. A wood filler will have to be painted on or polished when the entire floor is being taken care of. Sanding is another essential aspect of the upkeep of wood. If the wood filler cracks after a while, it would cause the appearance of the entire floor to be diminished.
The wood filler should be stainable so that it holds the color of the hardwood floors. The filler should not shrink upon drying as it would defeat its purpose. Shrinking would produce further irregularities, which would then need to be filled. Whenever you are choosing a good filler, make sure it does not crack upon drying or after being used for a while.
Match the Colors with Care
Wood fillers are available in different colors so that the user does not have to worry about getting the exact shade right and can just pick from the wide selection of colors already available. But problems arise when your hardwood floors are of a shade that does not match that of the wood filler. In such cases, opt for a white wood filler.
Luckily for you, wood fillers can easily be mixed with different hues to get the shade right. You can mix and match different tints and get the color just right. The idea is to make the floor look seamless. Since wood fillers are very affordable, you can afford to do some experimenting with the colors in order to get the shade right without feeling like you will be wasting a lot of money.
Do Not Compromise Durability
Many buyers make the mistake of compromising durability for a cheaper product. When it comes to the flooring of your house, you cannot afford to make the compromise. You would not want to continue to attend to your floors every few months.
The more durable your chosen product, the better the condition of your floors. If the wood filler is not durable, the pores and cracks in the hardwood floors can become more pronounced with time, and the wood filling would appear more visible.
Durability matters, even more, when the wood filler would be used outdoors. Hardwood floors outdoors would be prone to sun damage, extreme weather conditions, and other unforeseen detrimental conditions. Choose nothing but the best option when it comes to the durability of the wood fillers for your home.
Read all the Ratings and Reviews
If you are buying anything online, you cannot ignore ratings and reviews of the product. They will tell you about the performance, the compatibility of the product with the flooring, and the experience of the fellow buyers.
Good and bad ratings both are essential to see how effective the adhesion of the wood filler is. Leave a review about your experience to help other buyers too. Also, look at the return or replacement policies in case the product comes damaged. There might also be a refund policy in place for some of these products.
FAQs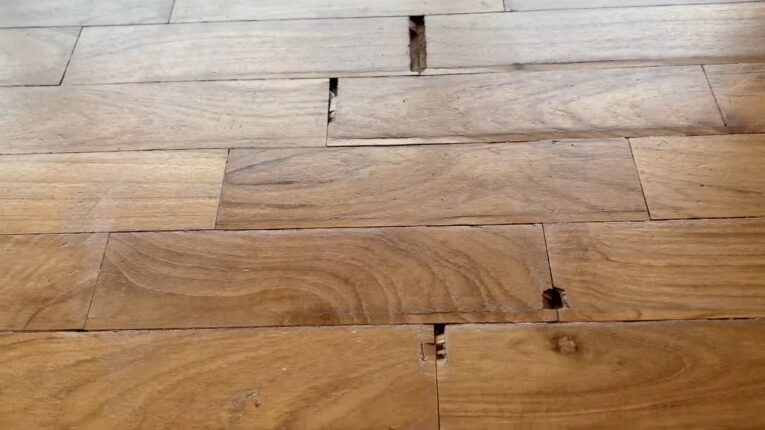 What is the purpose of wood fillers?
Wood fillers are typically used to fill in irregularities in the surface of the flooring of your home. The wood filler will have to be rubbed into the surface in a repetitive circular motion. The wood filling will have to be sanded away to smooth over the floor like new.
Are hardwood floors compatible with wood fillers?
Yes, wood fillers are compatible with hardwood floors. There is a range of products made for being applied to hardwood floors and offer great durability both indoors and outdoors. Choose a good wood filler based on whether you want to fill holes or cracks.
The Takeaway
Suitable wood fillers like the ones mentioned above come with string adhesion, the promise of low maintenance, and durability. Often, wood fillers have natural wood fibers to match the texture of the hardwood floors. Look for some common factors like no shrinking and good stainability. Choose a wood filler based on the specific purpose(s) you have in mind.