Vacuum cleaners bring great appeal in our homes. Thus, homeowners have all the right reasons to cherish vacuums as a necessary cleaning tool. For that same reason, they should choose the best vacuums– design, style, type, innovations, etc.
Beyond cleaning the home, vacuum cleaners also act as diffusers. At one point or another, they enhance the home's environment via its scent. Maintaining a clean and good home, the vacuum cleaners are instrumental to achieving a good life.
The classic vacuum cleaner design that first graced the industry is the upright vacuum. It was a major breakthrough then. More versions of the upright vacuum style came pouring in ever since. Now at the turn of the century, say, during its technological peak, the stick vacuum came into existence. People instantly lined up for it too, perhaps out of curiosity.

Later as the need for practicality became apparent, preferences between the stick and upright vacuum cleaners drove the industry by storm.
Therefore, it would be fair to say that the upright vacuum cleaner never really went out of style. And that does not necessarily devalue the stick vacuum. Both styles are made for good reasons.
The point of this post is, beyond comparing the two (as suggested by the stick vacuum vs. upright vacuum title), to come up with a feasible helping for buyers/users, a guide for determining which vacuum cleaner style/design delivers best to personal needs. As such, several key points are being considered herein– stability, affordability, sustainability, and intended purpose.
Having trouble deciding between the two, stick with us here. We'll be right up!
What is an Upright Vacuum Cleaner?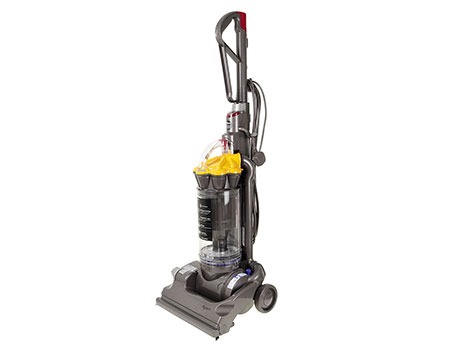 The upright vacuum cleaner type, as its name suggests, can literally stand on its own. This traditional configuration works best for deep-cleaning carpets, rags, sofas, etc. as it enables the handler to easily prod it and then leave it standing for a few minutes.
Requiring the least effort to operate, the upright vacuum cleaner utilizes a tilt-and-push action in dealing with obstinate dirt and dust. This type could either go bagged or bagless depending on the brand design.
What is a Stick Vacuum Cleaner?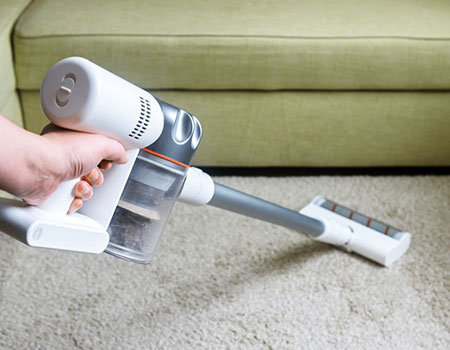 To say it simply, a stick vacuum cleaner is an update of the traditional upright vacuum cleaner. It feels lighter, sleek and handy, providing the user a fuller control over its cleaning movements.
Because of its lightness, the stick vacuum cleaner is easier to store and maintain. More so, it is easier to clean and empty as it does not usually include several attachments in its package.
3 Other Types of Vacuum Cleaners
Handheld
These vacuums can be held by just one hand. Intended for cleaning hard-to-reach edges, narrow side spaces in cars, and other small areas, the handheld vacuum cannot sustain cleaning wide floor areas.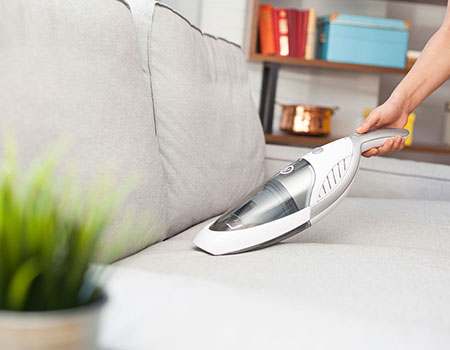 Robot/Autonomous
This type of vacuums is known for two words: luxuriously expensive. Owning the robot vacuum means a hands-free and relaxed house cleaning experience. Like a robot, the robot vacuum moves on its own to clean and suck dust in the both large and small areas in your house.
Canister
Also expensive, but not as expensive as the robot vacuum, the canister vacuum is hybrid between upright and stick vacuum types. Bearing the capacity of the upright vacuum, it also tends to be slim and handy like the stick vacuum.
What are the Benefits & Disadvantages of Using a Stick Vacuum?
Pros
It is quiet.
The best cordless stick vacuum has finer and smaller motor size. So, it should not be annoyingly loud. It should be useful in cleaning areas with sleeping babies.
It is versatile.
The stick vacuum can be stripped off cords for easier handling. It can run both as a battery-powered and a corded device. More so, it is designed in a way to reach narrow spaces and achieve cleaning results in a short time.
Thanks also to its HEPA filters, it quickly absorbs fine to tiny dust particles without having to manually move it to that target area.
It facilitates convenient, easy and fast cleaning action.
The stick vacuum is highly empowering due to its optional configurations– it can be assembled upright or handy depending on your preference.

Since it is easy to handle, you can simply slide it in-out, over-and-under furniture sets. With these features on hand, it should be easy to clean using the stick vacuum.
It is easy to store and maintain.
People who live in smaller spaces like apartments can highly benefit from the stick vacuum. Small in size, it does not consume massive space in the storage area. Also, it is easier to clean and maintain.
Cons
Its motors are not very powerful.
Being small, it's motors are expectedly underwhelming in terms of running capacity, suction strength and pressure-resistance.
The battery-powered stick vacuum has limited running time.
Understandably, if it is battery-powered, whether it is of Li-ion type or not, it should not continue running beyond 45 minutes or so.
It gets rid of advantageous features at the expense of weight.
In the aim to live up to its lightweight expectations, the stick vacuum naturally loses important/advantageous features like hose, cords, bags, expanded filters and other attachments.
On the other hand, the corded stick vacuum utilizes a HEPA filter for detailed cleaning. However, this HEPA filter will only come short of effectiveness if the stick vacuum turns out to be bagless.
It cannot do deep-cleaning on carpets.
Unlike the upright vacuum, the stick vacuum does not have the capacity to sustain for long minutes deep-cleaning carpets. Besides its limited running time, it has controlled suction and filter power.
What are the Benefits & Disadvantages of Using an Upright Vacuum?
Pros
It is best to use on carpets.
The best upright vacuum sustains for long minutes. Since it is corded, it transforms direct electric power to uninterrupted suctioning, filtering and overall cleaning (providing it also with longer running time).

The upright vacuum has doubled filtering capacity, a roller brush design specifically for paving the carpet surface for intimate cleaning, and a set of powerful motors.
Sometimes it's difficult for someone to remove roller brush from the shark vacuum. You may know now How to Remove Roller Brush From Shark Vacuum.
It cleans bigger areas.
A back-and-forth cleaning tool, the vacuum does not require heavy handling. All the user has to do is to direct it toward the area and it will do its own cleaning standing up.
And since you don't get exhausted with it, you have continually prod it to achieve bigger cleaning outputs (as per area).
It does not require handlers/users to painfully bend down.
This traditional cleaning tool is a plain tool. A straightforward invention, it does not require you to overthink on switching it between configurations. Meaning, you do not have to manually bend down to adjust its settings.
Also, it easily slides back and forth so that the only manual thing you will have to do is lift furniture up.
Cons
It is bulkier.
Quick fact check: the upright vacuum is really heavy. Moving or transferring between floors and across spaces can be such a load.
Also, storing the upright vacuum, given all its attachments, tends to be a handful.
It is annoyingly loud.
The main problem users complain about the upright vacuum is its annoyingly loud motors. Why, they can't help it.
Imagine large-sized motors that secures the toughest suction capacity and most spontaneous operation. That is how much responsibility it's motors take charge of.
Conclusion
The vacuum cleaner, regardless of its types, serves a great purpose in the home, office or vehicle. And, that is to clean. Independent from other cleaning tools, the vacuum cleaner utilizes attachments and achieves cleaning output unique from other cleaning tools. Its key power: to vacuum.
In the advent of technology, the vacuum cleaner innovated both in design and type not for the worst, but for the best. Thus, both the stick and upright vacuums perform with their accorded capacities.
As a responsible buyer, you are to look into the varying contexts of vacuum needs. Only by doing so can you fully determine which vacuum type works best for you: stick vacuum vs. upright vacuum?