A lot of reasons make people stick to laminate flooring as the no. 1 flooring choice in homes. Surely, in one of these reasons, there lies the need to learn the steps on how to fix laminate floor water damage. But, you shouldn't just take any solutions from any site. Fortunately, our solution went through strict triangulation, verification, and first-hand simulation.
Laminate flooring. Who wouldn't prefer this? Durable. Practical. Easy to install. Straightforward design. But what truly makes this type of flooring stand out is its low-maintenance design. In addition, laminate flooring appears beautiful in whatever decor it's placed in.
But what about water damage?
While a laminate flooring can resist water stains here and there, it still is pervious to water damage. It is especially so when we're dealing with large-scale water contact like flooding, sustained moisture, and stains. In fact, despite its low-maintenance cost, the planks of the laminate flooring are bound to crack and bend when submerged in water within a short period of time.
Does this mean that you can't fix it? Of course, not. And, here's where laminate flooring emerges to be an amazing choice. Good news: water damage on laminate flooring doesn't stay forever; but, that is only possible if, and only if, you'll learn the proper steps to fixing it.
Are you experiencing water damage on your laminate flooring now?
Then, read this article to the last bit to fix this problem in no time!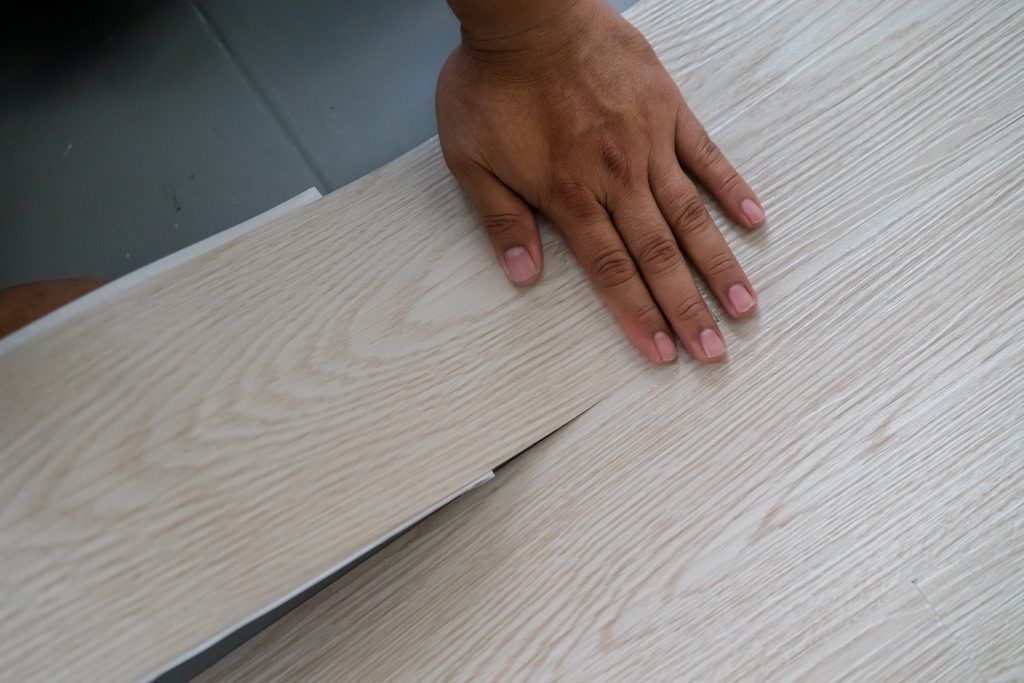 What are Effective Steps on How to Fix Laminate Floor Water Damage?
There are several ways to quickly fix laminate floor water damage. However, not all of these are effective. The effective steps on how to fix laminate floor water damage involve replacing the infected planks.
But let us not go over your head.
Let us begin the water damage repair by preparing the best tools:
Tools to Prepare for Your Laminate Water Damage Floor Repair
Here are the best tools to secure on how to fix a floor:
Measuring Tape
You will be needing the measuring tape to accurately determine the size and dimensions of the laminate planks that are to be replaced.
>>Click the link here to check our favorite measuring tape product.
Underlay Sheet
Laying the underlay/ underlayment sheet before the actual planks is imperative. Apparently, the underlayment prevents direct damage on the tiles. Most importantly, the layer absorbs sound and delays the seeping of water into the inner layer.
>>Click here to discover our favorite underlay sheet product.
Floor Glue
Without the floor glue, it would be impossible to stick the planks and tiles together. However, not all floor flue products work as expected. So, it is important to consider the brand when buying one.
>>Click here to discover our favorite floor glue product.
Pincher tools
The pinchers or plyers should come in handy when you have to fix laminate floor water damage. It is useful when rotating extra-small parts too hard for the fingers to do. Without this tool, it would take you a long time to fix the flooring.
>>Click here to discover our favorite pinchers.
Hammer
The hammer is necessary for pressing and levelling planks (to be done very firmly and carefully as planks are highly breakable), breaking apart hard materials, and a lot more. It is therefore an essential repair tool.
>>Click here to discover our favorite hamer product.
Other important tools include:
Cutter/ Swiss Army Knife
Purifying Solvent Solution
Goggles
Paint Stirrer or Putty Knife
Have you gathered all these tools herein? Then, it's time to learn the steps and put those tools to use.
Steps on How to Fix Laminate Floor Water Damage
Here are the steps on how to fix laminate floor water damage:
Step #1. Inspect the source and state of leakage.
Check the areas and systems close to the laminate flooring that might have leaked water into its plank.
If stagnant water is caused by broken pipes, toilet systems, water lines, and other water sources, have these fixed first.
If you can't do the fixing, ask a plumber to do it.
Reconsider relocating either the laminate flooring or any of the water systems.
Do not proceed in repairing the laminate flooring without first stopping the drip.
Step #2. Sort the right laminate plank.
Look out for a laminate plank design that matches the existing design to be replaced.
Look into matching details like dimensions, tone, depth, etc.
If you can't find a match, have the entire laminate planks replaced.
Step #3. Pull out the infected plank.
Ready all necessary tools and put them all in one place so that when you begin removing the plank, you can do it right away.
Carefully pull out one plank at a time to avoid infecting damage on the other clean planks.
If you notice some slight damage on a particular plank, pull out the plank entirely; it will just worsen through time.
Pull out the entire underlayer of the laminate flooring until the bare floor is exposed. Use the paint stirrer or putty knife to handle the laminate planks' worn-out sides.
Inspect the floor of existing mold, stains, etc.
If you notice any of the conditions stated above, thoroughly clean and dry the floor before laying in the new planks.
Step #4. Put in the new plank.
Measure and cut the planks to fit using a cutter. Wear goggles when doing this to protect your eyes from possible splinters.
Set the laminate planks aside to once again clean and dry the bare floor.
Put in the underlay sheet.
Place floor glue to hold its place. Spread using a putty knife.
Carefully place the laminate planks over the bare floor.
Once fit, use a putty knife to remove excess glue from the sides of the laminate flooring planks.
Clear stuck materials off using a purifying solvent solution.
Place a heavy material above the newly-placed laminate floor until the glue dries up.
So there you go. The quickest, simplest, and most effective steps on how to fix laminate floor water damage. Remember: the key is in the plank replacement.
Continue reading to hear our conclusion.
You may also like to read How to Fix Worn Spots on Hardwood Floors
Conclusion
As it turns out, the secret to realizing a most effective procedure on how to fix laminate floor water damage lies in replacing its infected laminate plank. As far as the laminate owners are concerned, this is a new addition to the procedure. Eventually, most procedures don't usually involve replacing the plank.
Infected planks are really of no use. Despite treating the mold with the toughest solution, it is still expected to prevail in time. That is, because laminate flooring absorbs water more than any flooring does. Therefore, fixing this problem without replacing the planks puts all efforts in vain.
Laminate flooring is one of the most practical flooring types. It's easy to install, maintain, diagnose, and replace. However, fixing a laminate floor water damage requires a specific knowledge and patience for doing so. To fix a laminate floor water damage truly takes time. In case you are unsure on how to do it, do not hesitate to seek assistance from an expert. By doing so, you prevent further damage in the future.