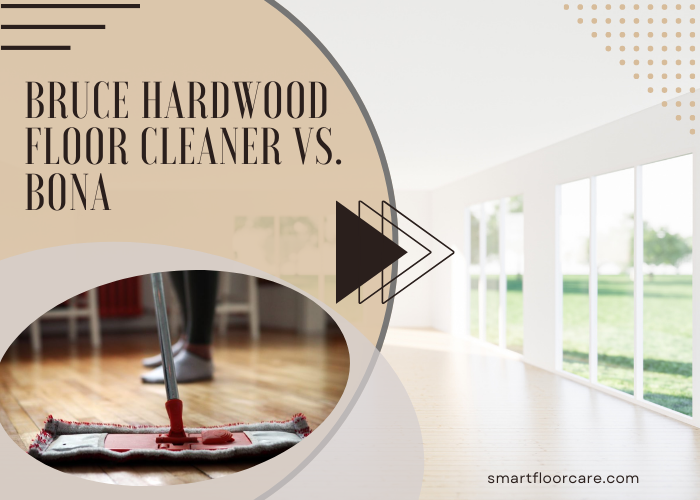 So how's it gonna be? In the great Bruce hardwood floor cleaner vs. Bona context, several things come to mind. And, that's completely expected especially when you're dealing with a sensitive hardwood floor. 
Just to clear off the air, since we don't want to give the impression that hardwood floors are super-critical to maintain, allow us to emphasize that hardwood floors are a great option for the home or workspace. 
In fact, people prefer hardwood floors over vinyl due to their durability. It's not that hardwood floors break apart when you fail to choose the best cleaner for it, or that it can't be revived once it loses its shine. 

That's not really the point why we're pitting against each other the Bruce Hardwood Cleaner and the Bona. Rather, we've come up with this article to guide you on finding the right hardwood cleaner based on your hardwood situation. 
By their own rights, these two products are both major things in the market. So, it would be a very careless thing to simply judge one from the other. 
Fortunately in this article, we'll be focusing on the individual strengths of the Bruce and the Bona hardwood cleaners,and hopefully come up with a simple note on when one is best to use over the other.
Here we go…
Bruce Hardwood Floor Cleaner vs. Bona: What Works Best for Me?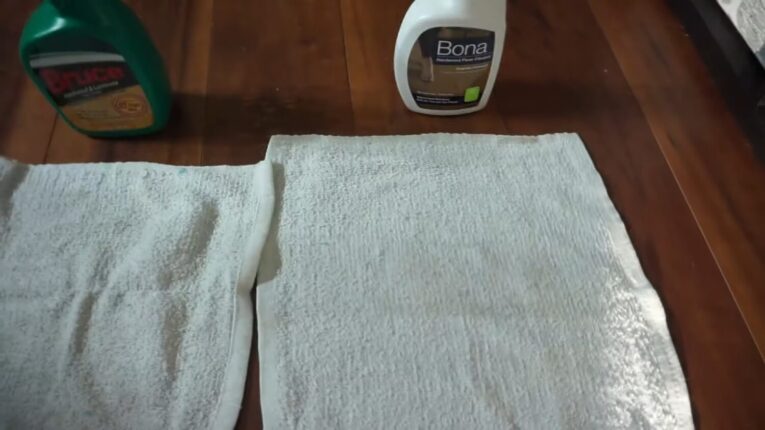 For us to better understand the overall command of both cleaners vis a vis the nature of the hardwood floor, let us deep-dive into each product based on their reviews, recommendations, pros and cons, and some manufacturing details.

After, we will consolidate these details to common user contexts collected from the buying guide.
Meanwhile, take a quick look at our 2023 hardwood cleaner buying guide for context…
Hardwood Cleaner Buying Guide 2023
Finding which product is the best in the Bruce hardwood floor cleaner vs. Bona frame, or simply, the best product should be the least of your worries. 
What you should be more concerned about is if the product serves your hardwood floor cleaning context needs.
To get a grasp of your own hardwood floor cleaner context, study this buying guide…
Unfinished Hardwood Floor
This is primarily what you'll have to firstly consider before cleaning the hardwood floor. Ask yourself. Is it finished or unfinished?
You see, unfinished hardwood floors do not have the same protective layers like the finished ones. Meaning, they easily absorb oil, moisture, and residues from the cleaner. 
Now, if you're all set for cleaning your unfinished hardwood floor, consider applying liquid wax on it 2 days before cleaning. You'll have to allow the wax to dry by all means. 
If you can't afford a wax, consider using a floor cleaner with no dulling residues. Having a quick-dry coating effect, oil and mineral-based property in your cleaner also helps big-time!
How to determine if your hardwood floor is finished or unfinished:
Rub your fingers over the surface. 
Check out if flecks appear.
If flecking occurs, then it's most likely that the hardwood floor is unfinished. 
Hardwood Floor with Surface Seal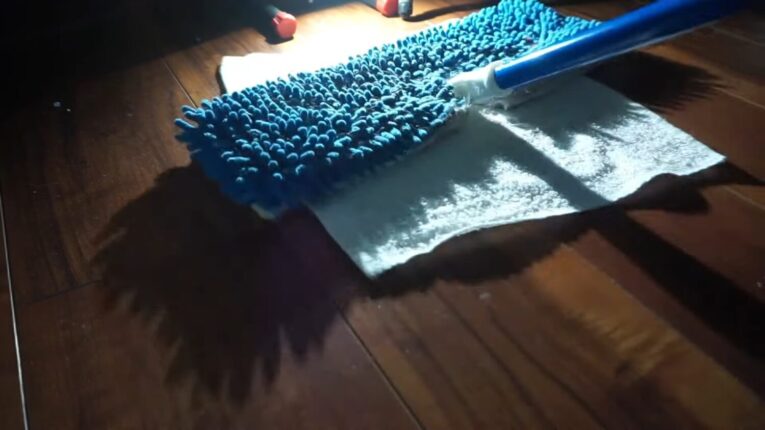 So you found out that your hardwood floor is finished. While you can instantly let loose a bit by simply cleaning it with water and mop, vacuum, or any clean cloth, you'll have to be picky over the quality of the floor cleaner you're using. 
You see, surface-sealed hardwood floors do not need extra attention like moist and oil resistance since they're already protected. 
However, some contents in the floor cleaner (in case you prefer cleaners over natural soapy water) you're using might have certain chemicals and solutions that react negatively to polyurethane seals, for instance. 
That's why you'll have to be picky on this. 
Be wary of cleaners with the following properties:
Oil-based
High alkaline content
Acrylic
Straight ammonia
Scented ones
High chemical concentration
Oil-Treated Hardwood Floor
Oil-treated hardwood floors mean one thing. They're like in a therapy process. They're needing any available floor treatment support possible. Among the hardwood floor conditions, this requires the presence of floor cleaners.
Floor treatment support is best given through either liquid or paste wax. From the top, liquid wax is more convenient when it comes to application; the paste wax, on the other hand, works more effectively in fully protecting the treated floor. 
If you can find a hardwood floor cleaner with properties and mineral spirit, purchase it by all means. Once purchased, use it generously on the floor. 
Avoid cleaners with acrylic contents and high chemical concentration since they potentially strip off wax seal. 
Understanding this buying guide will surely help you spot the right hardwood floor cleaner product for you. It should also help you in setting the hardwood floor cleaning context needs. 
Now, it's time for our most-awaited part: the ultimate Bruce hardwood floor cleaner vs. Bona round!
Bruce Hardwood Floor Cleaner vs. Bona: The Ultimate Round
In the utmost intent of weighing the two standout products, we will subject them through our highly-comprehensive product reviews.
Read on…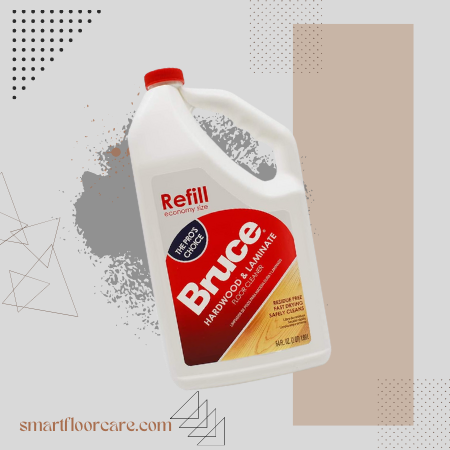 Perfect for no-wax urethane-finished hardwood floors, this premium product by the Bruce brand not only protects, but also enhances hardwood floors (in all conditions). 
Contained in a spray bottle, the Bruce Hardwood Cleaner is an instant application. It does not take a few seconds just to be poured. In that line, it's also most economic to use. Experts refer to its sufficient concentration as the key. 
The overall product package weight is 32 oz. So, it should be easy to store. Moreover, changing temperatures don't really affect its shine consistency as it's manufactured to blend with any existing seal. 
With this bruce floor cleaner formula on hand, you won't have to rinse it off since it does not yield any duling residues whatsoever. 
Overall, it's a most-recommended natural hardwood floor cleaner and finish-provider. 
Pros
100% No-scratch-on-floor shield
Unscented
Sufficient chemical presence
No residue 
Easy use and application 
Lightweight
Economic
Best for unfinished hardwood floor
Cons
Dries up too fast
Might cause build-up on oil-treated floor
A bit streaky
Might react to non-urethane coating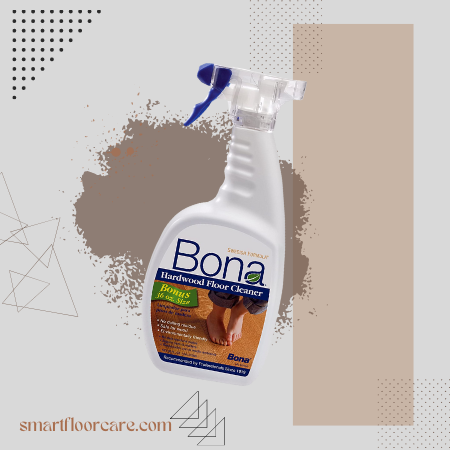 This product by the Bona brand is a royalty when it comes to safety. It may not have the same concentration as that of the former product, but it's totally best to use on damaged and old hardwood floors.
The Bona Hardwood Floor Cleaner has a special kind of mineral spirit that makes it the perfect blend for damaged floors. 
Other pluses that make this product stand out include natural wax, sealant, wood-enhancing properties, etc. Experts insist on the product as the only, ultimate name in the market today that revives old hardwood floors. 
Also boasting of high shine consistency, the bona floor cleaner requires less repeated application. Perhaps it might not be as economical as the former, it sure does provide long-term protection you won't regret. 
Pros
Safe on all wood types and conditions
High shine consistency
Nullify property
Eco-friendly certified
36 oz lightweight package
Certified no residue
Cons
Lacks concentration
Does not hold long
Requires support from wax
Too watery 
Hardwood Floor Context
Bruce floor wood cleaner
Bona floor wood cleaner
Final Verdict
Unfinished
ProsMight function as long-term seal and coatingLess water content so it dries easily 
ConsMight react to paste waxCan be too harsh on some wood types due to concentration
ProsHigh consistencySafe on all waxesSafe on all wood typesRevives old and damaged unfinished wood
ConsRequires excessive application to take effect
Bona is better by a 40% mark. 
Finished 
Pros100% polish satisfactionNo residuesMaintains polished for monthsOne spray effect
ConsShould not be applied excessively since it can strip off seal layers
ProsSafe on all floor types and conditionsSafe on all finishNo residues
ConsLacks concentration for maintained polishRequires excessive application to take effectLackluster output
Bruce is better by a 30% mark. 
Oil-treated
ProsProvides treatment supportStrengthens oil coatAdds minerals and nutrients 
ConsMight be too harsh when applied excessively
ProsProvides treatment supportStrengthens oil coatAdds minerals and nutrients 
ConsMight be too watery when not supplemented with fine coating
Bruce and Bona share the same win marks in this area. 
Read on to hear our conclusion….
Conclusion 
In the Bruce hardwood floor cleaner vs. Bona round-off, we can conclude that it's truly a close fight!
As we've mentioned earlier both the bruce floor cleaner and the bona floor cleaner are, by their own rights, major things in the market. 
Our ultimate takeaway in this article: know your unique hardwood floor cleaning contexts needs. This should be key; it makes a major difference. 
Another winning round is the fact that these two products share great cleaning outputs. That alone should be rewarding!