You must be interested in the aluminum floor jack. You're right to be because it's currently the most popular type of floor jack that's making the rounds in the market today. Just when you think we're hitting the ceiling over this one, wait until you get your hands on our solid review of the Arcan 3-Ton Quick Rise Aluminum Floor Jack!
Two things make this reading opportunity the best one you'll get. First, the aluminum floor jack brand we're reviewing certainly tops multiple ranking lists and review magazines all over the world. Second, this review you're about to read today delivers just what you need: honest and ample information about the brand. Period.
Our review and simulation of the unit produced extremely wonderful results. Eventually, it did not only confirm our expectations about the tool but also yielded benefits yet unknown to us. The review taught us the ultimate standard for all floor jacks: dependability.
Want to know how dependable it is? Want to know its other features? Excited to discover its edge over other floor jacks? Want to know what makes aluminum floor jacks stand out?
Stick through this article to find out!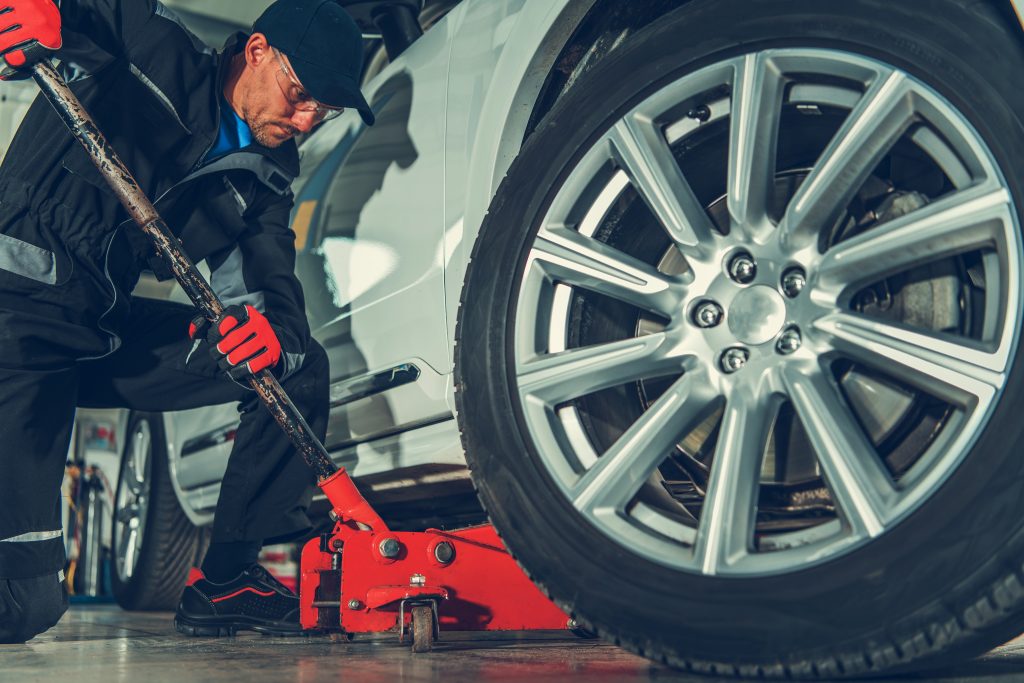 What is An Aluminum Floor Jack and Why Should I Use It?
Repairmen. Auto mechanics. Vehicle electrician. Perhaps even regular car owners know how essential of an instrument a floor jack is.
An aluminum floor jack/floor jack is a tool that lifts any weighty material with notable security and accuracy. It is also most importantly sought for because of the safety it provides. By how it is designed, the tool fulfills the value of dependability.
Apparently, one entrusts his life to this tool.
It is essential for repairing automobile parts and most machinery that is too heavy to lift using bare hands.
In addition, the floor jack is the only instrument that can sustain while tilting a massive object as it especially locks in place. Thus, securing a stable, durable, and solid floor jack is key to a safe and successful automobile repair.

The floor jack is made of two known materials – steel and aluminum. While steel is inarguably solid, it tends to be heavy to move around. An aluminum floor jack, on the other hand, proved to be lighter, yet still durable.
Which material should I prefer, steel or aluminum?
As it turned out, an aluminum floor jack is more preferable to steel. See the table below to gain a clearer comparison between the two:
| | | | |
| --- | --- | --- | --- |
| Floor Jack Material | Advantages | Disadvantages | Conclusion |
| Aluminum | Lighter, more versatile, and also durableEasy to carry around and storeIt's easy to fix on the floorIt's durable, solid, and generally dependable | Tends to be more expensive than steel jacksEasily absorbs nearby heatMight experience warping due to heat | The aluminum floor jack is a combination of durability and comfort. Although some brands can be quite expensive, other brands are simply affordable. In terms of dependability, it proved to be as dependable as its steel counterpart. |
| Steel | Cheaper than aluminumSolid, durable, and dependable for the longest time possibleIntegrates well into its construction | Too bulky and heavy to carry and storeNot versatileTakes time to be set up | The steel floor jack is a monster when it comes to dependability. It doesn't easily give in to crack. It is also cheaper than its aluminum counterpart. However, it's not as impressive when it comes to versatility, comfort, and convenience. It is as dependable as the aluminum steel jack. |
Both materials each fulfill unique advantages if you weigh them fairly. However, in today's circumstances where on-the-go repair is commonplace, the aluminum floor jack certainly tops the charts.
What are the types of floor jack?
The three common types of floor jack are as follows:
Piston Jack (Click the link here to see our top piston jack)
Scissor Jack (Click the link here to check our favorite product)
You just got all you need to know about the aluminum floor jack. It's time to get to the real thing – our ultimate product review!
Latest Review of the Arcan 3-Ton Quick Rise Aluminum Floor Jack
Consolidating information from several professional sources, we put the 3 ton floor jack brand to test.
Here's our verdict about the product:
Every upgraded detail about this item brings a corresponding wow and a major sigh. And, we aren't being generous with that already.
Our first impression: it's got a lot of added features. All of which are surprisingly useful. With these upgrades, this tool jack can now sustain pumps for up to ten. However, you no longer won't have to go there since it's pump-powered. The dual pump piston can account for its quick-rising action.

This repair tool works incredibly strong even when stretched far up to 18 inches. Releasing it back briefly should also bring it down to 3 inches. Now, we would like to emphasize this feature as it is essential to quick changes in the repair action. Also, this makes a versatile saddle.
The product boasts of an extra-strong built. Feeling it, you'd notice the aluminum texture fitted well with base pads. This aircraft-grade aluminum material plays a crucial role in maintaining its stability and dependability. Moreover, the aircraft-grade aluminum material makes the floor jack super-light!
And oh, before we forget! The Arcan 3-Ton Quick Rise Aluminum Floor Jack is an ASME PASE-2014 Safety Standard-certified! That means it's built for safety!
What are some problems you encountered with the item? How did you deal with these problems?
We certainly noted some issues with the tool. These include (1) problematic rear crater, (2) tendency to snap when out of grease, and (3) dangerous pump yoke action.
Here's how we, and perhaps you, can avoid these problems in the future:
Check to make sure that the rear crater is well-placed before buying.
Check if it's got enough grease before using.
Always be mindful of the pump yoke. Keep your fingers off it. Or, you can simply have it removed by an Arcan company specialist to be replaced with a simpler and safer mechanism. The catch here is that you'll have to spend extra since it's not covered in the warranty.
Pros
Upgraded Lift Arm
Easy Jack Positioning (via handle)
Safe on Vehicle
Extremely Light & Easy Control
Quick-Rising Action
Automatic Pressure Release (self-protecting)
Versatile Lifting Action
ASME PASE-2014 Safety Standard-certified
Superbly Dependable
Cons
Problematic (loose) Rear Car
Tendency to snap when out of grease
Dangerous Pump Yoke Action
Not Perfectly Integrated into Construction
There: that's Arcan 3-Ton Quick Rise Aluminum Floor Jack in the flesh, or in this case, in the build.
What if I'd have to look for other brands? What qualities should I keep in mind when choosing the best floor jack?
Check out the section below to be guided…
Best Floor Jack Buying Guide
If you're off to look for the best aluminum floor jack brands, don't forget to refer to our updated buying guide.
Here are important qualities you have to consider:
Weight Capacity
When looking for floor jacks, check out how much weight they can carry. Our featured product, for instance, bears a 3-ton weight capacity. Meaning, it can lift objects for up to a 3-ton maximum borderline.
Keep in mind that although its maximum capacity borders on three tons, it can only be stretched as far as one kg below the borderline. Going exactly at the borderline should already spell danger.
Consider this 1-kg allowance for all floor jacks. The product that says 2 tons means it can only actually carry a weight 1 kg below that. The same applies to a 1-ton weight capable device.
Build, Construction, Dependability
Feel and see if the material is made of either steel or aluminum. While a steel floor jack is certified to be solid and dependable, the aluminum floor jack works to be more practical.

In the end, it doesn't really matter if it's steel or aluminum. The most important consideration is if it has got a solid build that doesn't give way anytime.
A common sign of dependability is if the build is well integrated into the construction. However, some models, like the one we featured herein, do not necessarily appear to have a strongly integrated build and construction. Still, it manages to deliver as an extra-dependable tool
Read on below to get answers to more questions…
FAQs
What causes my floor jack to malfunction?
The main causes of malfunction among floor jacks include (1) lack of oil/grease, (2) excess oil or grease, (3) rusting on some parts, (4) loose bolts, stretched weight limit, and (5) oil spill.
Should I consider the type of car for my floor jack?
Yes. The type of car, particularly its ground clearance, determines the floor jack type, brand, and material to be used.
So what's our biggest takeaway from this? Read on…
You may also like to read An Honest Review of the Epic TINECO Floor One S3 Cordless Vacuum Hardwood Floor Cleaner
Conclusion
Picking the best floor jack is a serious business. Most of the time, you entrust your lift to it. One certainly needs the likes of our top product: the Arcan 3-Ton Quick Rise Aluminum Floor Jack to be able to ensure a safe and successful repair.
The ultimate standard that shapes a great floor jack is dependability. Without it, you'd be wasting your time, effort, and money buying floor jacks, including its three main types.
To sum up this review, we list down the major points:
The product in question, albeit not perfect, succeeds as superbly dependable.
There are three main types of a floor jack: piston, hydraulic, and scissor.
The aluminum jack is more preferable than the steel jack. The steel jack still delivers as a super solid and dependable tool, though.
Other properties of a great floor jack include build, construction, and weight capacity.
Best of luck on your search for your best floor jack!